How to add a new site to my Feedspot account?
In Feedspot, there is a red 'Add New Site' button in the left sidebar. Click this button. A box will pop up that says "Search or Enter a URL" Do not worry if you do not know the feed URL – Feedspot is pretty smart and can automatically find the feed URL for most domains. Just enter the normal URL of the website you'd like to receive updates from.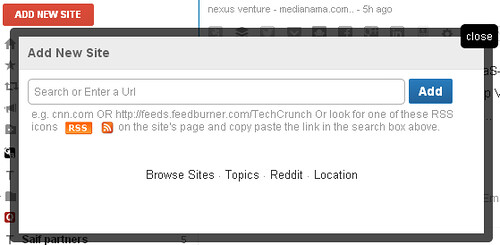 If Feedspot has successfully discovered the RSS feed, it will refresh with the content of the feed in the right column. In the left column,  the title of the site or feed should be added.After you have entered the URL, click 'Add'.
What if Feedspot doesn't find the feed?
In rare cases, Feedspot may not find the feed you are looking for. Or, perhaps, you don't want every update from the site, but just the updates from a particular category. In these scenarios, you will need to find the direct URL to the RSS feed. Here's how to do that:
1. Look for the RSS icon
Many blogs and websites use an orange icon to link to their RSS feed. It will probably look something like this (though typically smaller):
RSS Logo
Find this icon and click on it. It will take you to the raw RSS feed that looks similar to this:
Raw RSS Feed
If the website has an RSS feed provided by a third-party service, you may also land on a formatted page that you can read. Either one is fine; but be prepared to see code like I've posted above.
2. Copy the feed URL
When you find the RSS feed, copy the URL from the address bar of your browser window. Here are two examples of feed URLs:
3. Paste the URL in the 'Add New Site' box in Feedspot
As in our previous step, paste the direct feed URL into the 'Add New Site' box in Feedspot. Feedspot should refresh with the most recent items from the feed URL you entered.